About the program
The issue: pet overpopulation.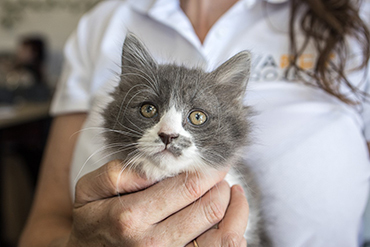 The cause: undesexed pets.
The solution: Spay It Forward. 
With the financial support of the Vida Group Grant Program, WA Pet Project has developed an education based community support program with the aim of reducing and preventing the number of unwanted pets in Western Australia.
WHAT IS THE SPAY IT FORWARD PROGRAM?
Spay It Forward is a program that assists struggling pet owners through subsidised (FREE) or partially subsidised desexing and microchipping at veterinary clinic locations throughout Perth. In a lot of cases, we can assist in remote country locations too. 
This program depends on the generosity of the WA community so that the program can continue. As we spend the funds, we need them to be replenished so that other families can also benefit from our assistance. If you'd like to donate to help sterilise pets, you can donate using the our bank account details below or via our Give Now page by clicking the 'Donate Now' button. We will then put the funds towards an urgent and much needed sterilisation of either a cat or dog in WA. 
Our bank details are as follows:
Inst: Bankwest
Name: Spay It Forward 
BSB: 302 162
ACC: 125 1806
WHO CAN APPLY?
To be considered for a subsidised desexing surgery and microchip you must be
A resident of Western Australia;
An owner over 18 years old; and
A concession card holder.
​THE PROCESS
Complete the online application (5-15 minutes): https://www.surveymonkey.com/r/S6DJXSR
On the last day of the month you will be notified of your acceptance into the SIF program or your place on a waitlist.
If you are accepted into our program, the SIF Program Coordinator will be in touch to verify your concession card details and to complete a microchipping form.
SIF voucher for booking a sterilisation surgery is issued via email.
Make a surgery appointment for your pet at the partnered vet clinic listed on your voucher.
Get your pet desexed!
Collect your pet and follow the after-care instructions.
Register your pet with your local council.
A SIF representative will be in touch to follow up/wrap up the process.​
Note: If you can afford to pay your veterinarian's normal fees, it is important that you do so. The SIF program is designed to help pet owners with a genuine financial need. If you do not know what the cost of desexing a pet would be please enquire by emailing spay@wapetproject.com.au.
PROGRESS TRACKER: 
So far we've provided sterilisation for 600 pets! ​Preventing the birth of a total 3188 unwanted animals.
(Updated 01/12/2021)
FOLLOW US ON SOCIAL MEDIA!
You can now follow SIF on our very own Facebook and Instagram accounts to stay up to date with what we are doing!
ARE YOU READY FOR A PET?
If you're not sure if you're ready for a pet then give this link a read. It may help you decide: Have You Got What it Takes?