Missy's Mini Grant
Our Spay It Forward (SIF) program is designed to address one of the biggest causes of animal overpopulation and homelessness: unsterilised, owned companion animals. Throughout our years of operating the SIF program, we have found that the toughest group to provide funding for are female dogs due to the significant cost of spay surgeries and under funding for subsidisation. Thanks to SavourLife, that is about to change!​
We have been chosen as one of four lucky recipients of the SavourLife 'Missy's Mini Grants'! Through this grant, SavourLife are providing funding to our SIF program to help us specifically target at-risk female dogs in Western Australia!
Launching on the 6th of April 2021, our goal over the next 12 months is to provide funding for over 400 spay surgeries around WA!
If you have a female dog needing sterilisation and you're in need of some help getting it done, read on below for our eligibility criteria. 
Goal Progress Tracker:
So far we've provided sterilisation for.. ​
(Updated 01/12/2021)
For more information about SavourLife and all the great things they do to help the rescue community, visit their website here.
WHAT IS THE SPAY IT FORWARD PROGRAM?
Spay It Forward is a program that assists struggling pet owners through subsidised (FREE) or partially subsidised desexing and microchipping at veterinary clinic locations throughout Perth. In a lot of cases, we can assist in remote country locations too.
WHO CAN APPLY?
To be considered for a subsidised desexing surgery and microchip you must be
A resident of Western Australia;
An owner over 18 years old; and
A concession card holder.​
THE PROCESS
Complete the online application (5-15 minutes): https://www.surveymonkey.com/r/S6DJXSR
On the last day of the month you will be notified of your acceptance into the SIF program or your place on a waitlist.
If you are accepted into our program, the SIF Program Coordinator will be in touch to verify your concession card details and to complete a microchipping form.
SIF voucher for booking a sterilisation surgery is issued via email.
Make a surgery appointment for your pet at the partnered vet clinic listed on your voucher.
Get your pet desexed!
Collect your pet and follow the after-care instructions.
Register your pet with your local council.
A SIF representative will be in touch to follow up/wrap up the process.​
Note: If you can afford to pay your veterinarian's normal fees, it is important that you do so. The SIF program is designed to help pet owners with a genuine financial need. If you do not know what the cost of desexing a pet would be please enquire by emailing spay@wapetproject.com.au.
ARE YOU READY FOR A PET?
If you're not sure if you're ready for a pet then give this link a read. It may help you decide: Have You Got What it Takes?
SUCCESS STORIES THANKS TO MISSY'S GRANT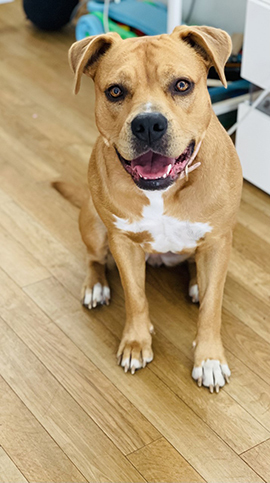 Cali was the first successful applicant that received desexing assistance via our Missy's Mini Grant awarded by SavourLife.
Cali is a 3-year-old staffy X and member of a loving family. Cali's mum reached out to the Spay It Forward program for help as she found the upfront fees of sterilisation too far out of reach as a single mum of two children. While desexing does prevent the birth of unwanted litters, many owners, like Cali's mum, also reach out to us for desexing assistance in the hopes that it will help correct some of their pet's unwanted behaviours. For Cali's mum, her concern was the resource guarding of her toys and possessions while she was in heat, and since her spay surgery, we are happy to report that Cali has certainly improved and is living her best life.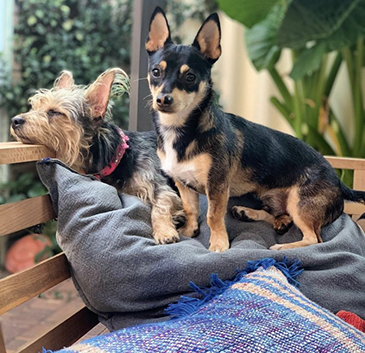 Another of our Missy's Mini Grant recipients is little Lilly. Lilly's mum originally contacted the Spay It Forward program with the idea to get Lilly desexed to prevent the birth of unwanted puppies. Before we could act on our desexing plans, her mate (pictured in the front), who was also not sterilised, mounted her and mated her - at least we thought! Much to our excitement and relief, Lilly avoided pregnancy and was whisked away quickly thereafter to a partnered veterinary hospital for immediate desexing. You never know when an accident is going to happen and little Lilly is very lucky indeed! Now, Lilly is healthier, and able to enjoy a long, puppy-free life!